How To Enter Forex Trades
This article is an educational guest post. It was written by Mark Mc Donnell, the owner of the Forexearlywarning.
In this article, we will give forex traders a comprehensive guide on how to enter forex trades and manage them across 8 currencies and 28 currency pairs.
We will show forex traders how to identify new or existing trends on the higher time frames, H4 and larger. We will also show traders how to assess the pip potential of each trade, give them professional alerts and notification systems, and explain how to verify the trade entry. Then we will show traders how to manage the trade with initial stops, breakeven stops, and scaling out lots.
Identifying The Main Trend
Traders can set up some simple trend indicators across the various time frames on their charting system. Then use the principles of multiple time frame analysis to determine what pairs are trending or what pairs might be starting new trends. An example of these trend indicators is in the image below.
Traders should always group their trend indicators by individual currency. For example, all the JPY pairs should be set up side by side to verify they are all moving in the same direction. This can be repeated for the top 8 currencies, like the USD, CAD, EUR, CHF, GBP, AUD, and NZD pairs, across 28 pairs.
Then check the H4 time frames and larger on each group of currencies to see which pairs are trending up or down. Especially look for pairs that are starting new trend cycles.
Alert Systems
The forex market can move at any time it is open. But most high-quality entries, about 80% or more, occur in the main trading session. Since the market is open 24 hours, traders need to maximize their schedule and know more exact times when to check the market for a potential trade entry. In that sense, the alert system you use can make or break your trading schedule.
A professional trading system needs various alert systems. We suggest the world economic calendar, audible price alerts, email price alerts, a currency strength mobile app for your desktop notifications and mobile devices, a desktop market scanner, and manual observation at intervals in the main trading session. Here are some professional forex alert systems that are available to traders to notify them when the market is moving.
Trade Entry Verification
When the alert systems notify you that the market as a whole or a particular group of pairs might be moving, traders need to verify their trade entry. For trade verification, we use The Forex Heatmap ®, which is a visual map of the forex market that gives live buy and sell signals. You can see two examples of the heatmap below in the example trade entries. Traders also need to verify support or resistance levels and targets. For example, if you see a buy signal on the heatmap for a particular pair, and there are at least 100 pips of potential to the next resistance area, then this is a valid trade. We use 100-125 pips of potential on most trade entries, so the risk-reward ratio is excellent, at least 4:1 positive.
Example Trade Entry
We will now show two examples of trade entries for two different pairs. The same exact procedures can be used for 28 pairs on buys or sells.
A trader receives an alert from one of the listed alert systems that the AUD is weak or the price on the AUD/USD is dropping, i.e., price breach or mobile app notification. You check the trend and heatmap signals to verify if a trade is possible. First, you verify that the AUD/USD is in a downtrend on the D1 time frame and has no nearby support levels for at least 150 pips. Then you check the signals on The Forex Heatmap ® for AUD weakness or USD strength. The AUD is consistently weak, and you sell the AUD/USD. In this case, you are using the smaller time frames and heatmap to enter the sell on the larger D1 time frame, which is trending down.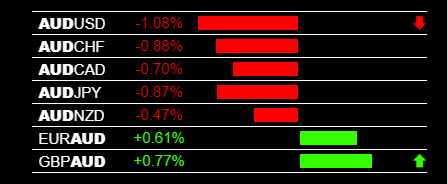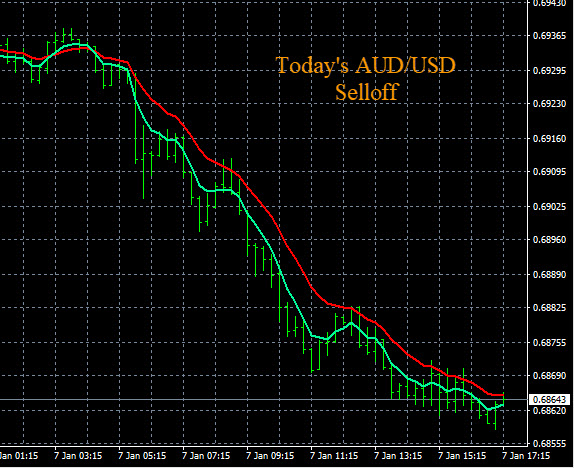 This is the live heatmap signal and M15 time frame, showing a 75 pip drop on the AUD/USD. With these types of signals, it was also possible to trade other AUD pairs, like selling the AUD/CHF or AUD/JPY.
Second Example Trade
In the second example, a trader gets a push alert that the JPY is weak on their cellphone. They check the market and charts and buy one or more of the JPY pairs. Again, the heatmap signals are strong and consistent. In this case, the trader has set up their charts to view all of the JPY pairs on one screen, which we strongly suggest for all traders.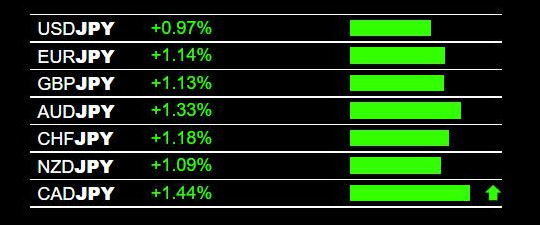 In this case, the live trading signals from The Forex Heatmap® match the chart setup. This is a very powerful way to trade and the most profitable way for forex traders to set up your charts. In addition, if you are using a funded trading account, you will minimize drawdown using this technique. The JPY pairs moved a combined 900 pips on this day.
Managing The Trades
If the AUD/USD is in a downtrend on the H4 time frame or larger, the trader can scale out lots and move stop to breakeven, then manage the trade by scaling out lots as it continues lower. Conversely, if the AUD/USD is in an uptrend on the higher time frames, the trader can exit all lots and manage the trade as a short-term sell intraday trade or day trade. Similarly. If the JPY pairs are trending up at least the H4 time frame, you can scale out lots on the ones you traded and move your stop to break even for more trend-based pips.
How To Enter Forex Trades Summary And Conclusions
This article presents a complete strategy for entering and managing trades across 28 pairs. Traders now have trend indicators, entry management tools, professional alert systems like push alerts, and knowledge for managing the trades successfully. More details about this trading system are available at the Forexearlywarning website.
👉 If you want to receive an invitation to our live webinars, trading ideas, trading strategy, and high-quality forex articles, sign up for our Newsletter.
👉 Click here to check our funding programs.
Follow us: 👉YouTube 👉 Linkedin 👉 Instagram  👉 Twitter  👉 TradingView